Expert Services in Essex
Even pressure washers that you can buy yourself are not as powerful as our industrial equipment. Our tools make light work of driveway and patio cleaning unlike the shop-bought domestic washers that can ultimately make a mess of the area as they only cover a small section at a time. We find that our clients become bored with the time consuming task – where we carry out a professional clean that turns the area into an appealing and clean part of your home or property.
Services provided by the Jet Clean Driveways team include:
Wash & Clean to Protect and Improve Your Outside Space
Pressure washing, even with water, on a regular basis is a great way to keep your outdoor spaces clean and free from hazardous materials and stains such as moss, grime, oil, tyre marks and other things that can cause your area to look unkempt.
Cleaning your own driveway can be time consuming and, if we're honest, most of our clients don't want to take on the task. Garden centre products and supermarket chemicals aren't always strong enough and can be harmful to the environment. If you take care of your surroundings and want to protect them we know you will be happy that we use just 100% water and lots of high pressure to tackle stubborn issues that cause your areas to look unsightly and poorly maintained.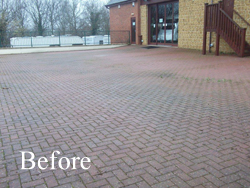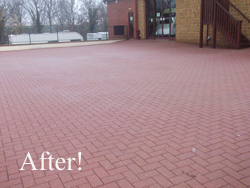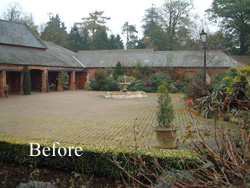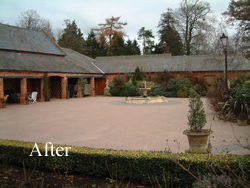 Hard Surface Commercial Services
We can imagine that the last time your hard surfaces looked as good when we are finished the job as was when they were first installed!
The Jet Clean Driveways team has years of combined experience within the light and heavy-duty surface cleaning machine sector.
Our reputable family run business is based in Essex and we all take great pride in providing a professional service to all of our clients.
All of the equipment we have to use has been purposely designed to restore driveways, paths and patios back to a like new condition by providing a unique deep cleaning system – yet in a completely different way to jet washers you might find in a catalogue.
All hard surfaces can be catered for and we work on so many different outside areas including:
Domestic and Commercial Service
Jet Clean Driveways are able to provide the best service for projects ranging from large surface areas such as shopping precincts, business forecourts, swimming pool areas, tennis courts and stable yards; through to smaller domestic cleaning projects such as paving, pathways, patios and driveways.
We make sure you get the most out of your investment. We understand that the initial outlay costs for your hard surface can be expensive and difficult to maintain.
Our cleaning techniques and specialist equipment will return your driveway or patio back to looking as good as when it was first installed.